performance course
GOLD MEDALS IN BOTH FLECHE & CHAMOIS ARE WITHIN JUST A SKIS REACH!
Enjoy an intensive session of 6 hours a day or an half day training
What to expect: fundamental ski techniques & race training lead by an instructor who will help too reinforce all the necessary technical elements to help you improve. You'll therefore be beating your previously timed runs in no time!
End of the week tests offered: both the Chamois and Flèche tests are available.
All tests and timings are recorded and can be found on Club ESF website.
ESF LA ROSIÈRE COMPETITION LEVEL COURSE FOR ADULTS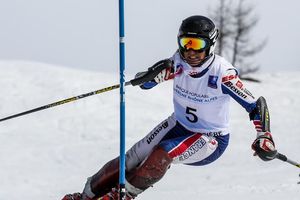 The
Performance
course is not available for this period but only during school Holidays.
If you would like more information about this course, please change the dates of your stay.
During your holiday you can follow our advanced-expert
ski group lessons
, an
Off-Piste
course or give
snowboarding
a try in a group.
To improve your slalom technic in a more personalised way, book yourself some
private lessons
with us.
You will be able to be registered at the Fleche slalom race that is running every Friday.