CHRISTMAS HOLIDAYS (18th December 2021 to 08th January 2022) :
We will organise our courses from Sunday to Friday or Monday to Saturday
team rider and competition courses
Group lessons after obtaining your gold star

We offer two courses for children who have acquired the Gold Star level.
After skiing for a while and moving through the ranks of the ESF levels and badges, your child may want to experience how the professional skiers do it.
OUR TEAM RIDER KIDS COURSE
Your child has successfully passed his Gold Star and would like to continue skiing with his peers without any pressure.
The program for the week is decided by the instructor at the beginning of the course depending on what the group wishes to do: on-piste technique, slalom, freestyle, off-piste, etc.

A Snake Glisse or Yooner outing is included for free one evening in the week.
OUR COMPETITION COURSE
You child has successfully passed his Gold Star and would like to continue progressing and do some slalom training.
This is the perfect course to learn and perfect slalom techniques.
At the end of the week the children could race in the weekly giant slalom (la Flèche) or slalom (le Chamois). The entry is free.
They will be able to see how they placed on a national level on clubesf.com.
TEAM RIDER AND COMPETITION COURSES
GROUP LESSONS AFTER OBTAINING YOUR GOLD STAR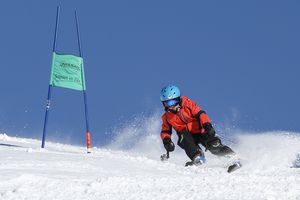 Unfortunately the
Team Rider Kids
and
competition
courses are not available for this period but only during school Holidays.
If you woulk like more information about those courses, please change the dates of your stay.
During your holiday your child can follow
private lessons
. Why not give
snowboarding
a try in a group?